Providing Kids With
Preventative Education & Dental Services
According to the U.S. Center for Disease Control and Prevention, almost one in four children between ages 2 and 11 suffer from untreated cavities in their baby teeth. Many children who are enrolled in Medicaid never receive the dental services they need to treat these cavities and prevent future oral health issues.
In response to this growing issue, the American Dental Association created the national program, Give Kids A Smile (GKAS), which helps these underserved kids by providing them with preventative education & dental services. The Hawaii Dental Association Foundation Lobbying Efforts have resulted in Governor Ige's signing of a proclamation to recognize February as "Give Kids a Smile Hawaii" Month.
2019 Recap
Give Kids a Smile

Information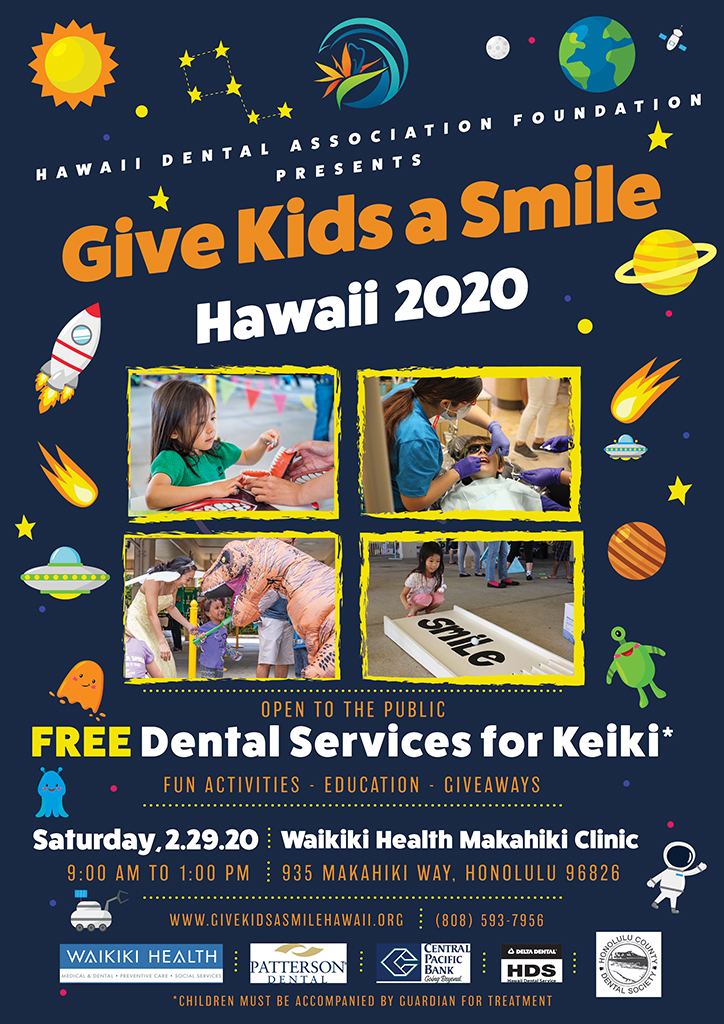 Our Achievements
3,030 children at public elementary schools participated in our Give Kids a Smile Oral Hygiene Presentations.

We treated families from the women's and children's shelters at Institute for Human Services and Next-Step Shelter.
32,000 flyers were distributed. Radio, newspaper, and TV coverage promoted our program.
Over 25 various local sponsors helped raise money or donated in-kind products and services.
270 volunteers have given up their time to make a difference in children's lives.
We treated 350 children on February 21st with free exams, cleanings, and fluoride.
Hawaii Dental Association Foundation and the HDA Dentist Group, are proud to host Give Kids a Smile Hawaii and provide complementary dental services and education to the children of our own community. Since February is National Children's Dental Health Month, we dedicate this time to improve the lives of Hawaii's keiki by guiding them onto the path to maintaining good oral health.